The holidays in Albuquerque are an exciting time of year, where every family has a tradition they hold near and dear to their hearts. Holiday cheer is everywhere, dressing stores with Christmas trees, garland, Ristras, ornaments, and more.
The winter season is getting ready to settle in. The days are getting colder and the nights cozier. Holiday happenings are all over Albuquerque, New Mexico! We've rounded up some of Albuquerque's best, brightest, and jolliest events this 2022 holiday season.
Stroll Through One of Albuquerque's Holiday Evenings
The Old Town Holiday Stroll is a local favorite. Eat traditional New Mexican Christmas favorites like biscochitos, tamales, and Posole. There will be music on 15 different stages, playing all kinds of holiday carols. The highlight of the Old Town Holiday Stroll is when the giant Christmas tree is lit. It's made up of 150 different trees! Local businesses like the Albuquerque Museum and Explora take part to make this a family-friendly and fun holiday event.
Holiday Shop & Strolls happen every weekend throughout December in Albuquerque. Nob Hill's Shop & Stroll is, without a doubt, a weekend highlight where storefronts are decorated with holly, and the streets close for Christmas shopping.
Stop by the World Famous Spanish Market, now in its 4th year, to see 400 years worth of local Spanish history. Find handmade gifts for everyone on your list here.  Enjoy the Holidays in Albuquerque in 2022.
Catch a Festive Play or Show
Popejoy Hall hosts holiday shows all season long. There's nothing like the warm glow of stage lights, festive decor, and holiday music to get you in the mood of the season. Gather in the audience to catch a modern showing of Christmas classics like the Nutcracker Ballet, or A Christmas Carol.
Almost everyone can agree: it's better to see Christmas classics on the big stage! Find the full calendar of holiday shows at Popejoy Hall here.
Hear Christmas Carols All Season Long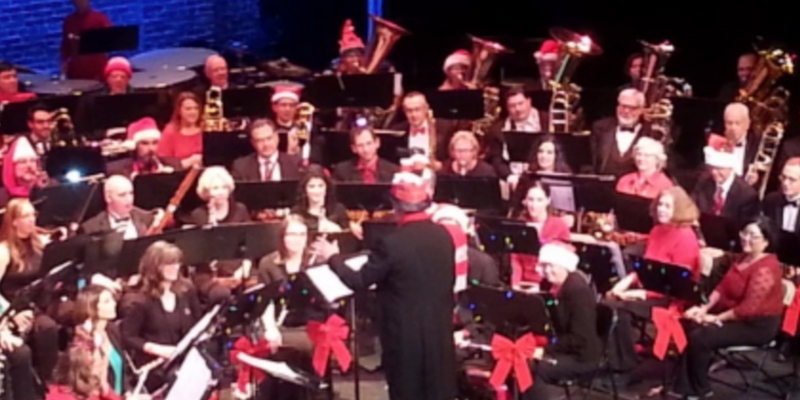 If Christmas classics are great on the big stage, carols are too! Throughout the month of December, there's no shortage of holiday-themed concerts in the greater Albuquerque area. Popejoy Hall presents Mannheim Steamroller, coming to town December 13th.
Other local concert bands and renowned composers host holiday concerts. Catch American composer Robert W. Smith and the Albuquerque Concert Band at the KiMo Theater December 3rd.
See the Merry and Bright Lights of Albuquerque
Taking evening drives to see Christmas lights is a family tradition. But in Albuquerque, there are so many dazzling light displays just driving by doesn't do them justice.
You'll find some of Albuquerque's most stunning lights displays at the Twinkle Light Parade. River of Lights, New Mexico's largest walk-through holiday lighting display, has over 150 lighting displays, synchronized music, and millions of glowing, twinkling lights. Don't worry about missing the display because River of Lights is open daily throughout the whole holiday season!
Get Festive at one of Albuquerque's Seasonal Festivals
There are so many reasons to celebrate at this time of year. This year, there are two Saturdays to head out to Albuquerque's Winterfest! The convention center hosts a skating rink, the Holiday Ice Qube, where Mr. and Mrs. Claus will be waiting to talk with the kids.
The Festival of Trees is another Albuquerque tradition, hosted by the Carrie Tingley Hospital Foundation. With over 80 decorated Christmas trees, you can browse the holiday decor while the kids visit with Santa! All proceeds benefit the foundation, and the festival celebrates the children.
Enjoy Family-Friendly Festive Fun
Sharing Christmas cheer with the little ones makes the season extra special. Albuquerque has no shortage of family-friendly holiday events that will be fun for the whole family. See decorated gingerbread houses to benefit Meals on Wheels of Albuquerque, hang out for the silent auction, get a picture with Santa, and vote on the best-decorated gingerbread houses. Gingerbread Enchantment is held December 1st. Check out the details of Gingerbread Enchantment here.  
Experience the Luminarias of New Mexico in Albuquerque
In Albuquerque this time of year, you're likely to see luminarias lining walkways, homes, and even churches. This local tradition dates back to when the Spanish had villages along the Rio Grande. The luminarias are, traditionally, made from a brown paper bag filled with sand and a small candle. Originally, these lanterns were to welcome Christ to the world.  
This unique, yet traditional, event is a great way to experience the holidays in New Mexico. An annual tradition is taken one step further: forget parking,  you can experience the Luminaria by a tour.
Happy Holidays!
Myers & Myers Real Estate
Our agency has some of the best in the business. Whether you're looking to buy house or sell a house, our real estate agents have the knowledge & expertise to get the job done.
Our team is here to help you and make the process as stres free as possible. Myers & Myers Real Estate has been helping home buyers and sellers since 2010.
Our customer service is excellent, & we're available to answer your questions. We have top-notch, experienced, knowledgeable Realtors.
Check out homes for sale in Albuquerque, homes for sale in Rio Rancho, homes for sale in Corrales, homes for sale in East Mountains, homes for sale in Valencia County, and homes for sale in Los Lunas. Call us if you are looking to puchase a new house or to see how we position your home to sell at the best possible price.